UK Uncovered: Lee, North Devon.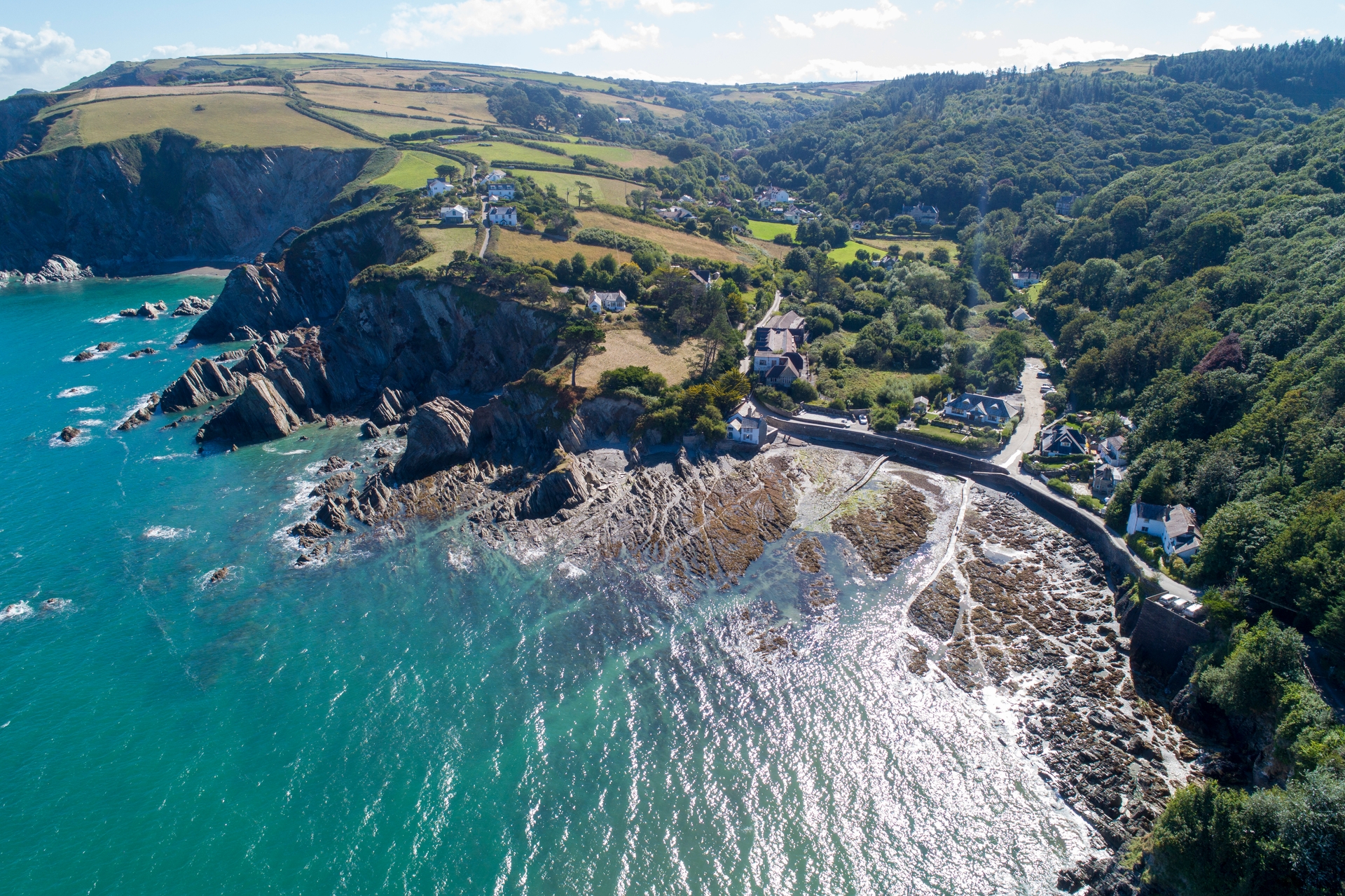 Lee Bay, North Devon
The beautifully remote beach of Lee Bay, often regarded as 'the jewel in the crown of Lee,', can be found 2 miles west of Ilfracombe, encircled by the sweeping Devon countryside on three sides and the Bristol Channel on the fourth. Set within an Area of Outstanding National Beauty, Lee Bay is abundant with a generous species of birds and other wildlife and home to a small tight-knit community.
Nestled in a deep combe, the scenic village benefits from a maritime climate and is generously adorned with dense woodlands. During the flowering season, Lee is affectionately known as "Fuchsia Valley" among locals due to the beautiful coloured flourishing of the hedgerows.
A leisurely walk from Lee Bay leads to a rugged cove, where at low tide, enchanting rockpools and sandy expanses are unveiled. The village itself comprises a scattering of quaint, aged stone cottages, a neo-Gothic parish church, a craft gallery known as the Old School Room, and a welcoming pub.
Lee Bay Development
The development will see the creation of sixteen unique 1-3 bedroom apartments and duplexes along with four 4 bedroom new build detached two-storey and single storey houses. In addition, Acorn has also gifted an area of the land to the National Trust who will create a new café and beach carpark.
Acorn has designed the scheme around a desirable outdoor lifestyle with large, airy open plan living areas with plenty of natural light. The apartments ensure the character of the historic Arts and Crafts building is retained where possible. In contrast the new build houses are contemporary and bespoke in nature, designed to make the best use of the views to the sea down the valley and reflect the character and nature of the conservation area they sit in.
Ilfracombe, North Devon
Ilfracombe, a small seaside resort and civil parish on the North Devon coast is a short 10 minute drive (3 miles) from Acorn's new development in Lee Bay. 
Surrounded by picturesque cliffs and encompassing a charming historic harbour adorned with pastel-coloured houses, Ilfracombe was initially a quaint fishing village that underwent significant transformation during the Victorian era - evolving into a thriving beach resort, particularly following the introduction of the railway. The northern coastline is a favoured spot for surfing enthusiasts and has easy access to other sandy shores like Woolacombe, Croyde Bay, and Saunton Sands within a short drive.
Ilfracombe is also home to 'Verity' by the world renowned artist, Damien Hirst. The sculpture portrays a pregnant woman who simultaneously wields a sword and bears the scales of justice while standing upon a stack of law books. Half of the artwork reveals the expectant mother's internal anatomy, prominently featuring the foetus. This stance is reminiscent of Edgar Degas' "Little Dancer of Fourteen Years," a work that previously influenced Hirst during the creation of "Virgin Mother."
Why invest in Lee?
The property prices for sold homes in neighbouring Ilfracombe remained relatively consistent over the past year compared to the previous year, showing a substantial increase of 20% when compared to the peak of £225,344 recorded in 2020. Furthermore, significant financial investments are pouring into Ilfracombe, with North Devon Council aiming to secure an additional £7 million for further enhancements through a second application for Levelling Up funding. 
Due to its elevated property values, minimal crime rate, and pristine natural scenery, the South West of England emerges as an excellent choice for real estate investment. This region, alongside only one other in England, is poised to outpace London's economic growth over the next three years as the UK rebounds from the impact of Covid-19. Currently, the average cost of a newly constructed property in the South West hovers at approximately £338,000, reflecting a rise of £17,500 (5%) over the past year.
How to get started with Acorn Property Invest
Designed for investors who  are looking for a potentially profitable investment opportunity and who meet the required qualifications, Lee Bay could be the opportunity that matches those investment objectives. Please register here for more information.
YOUR CAPITAL IS AT RISK IF YOU INVEST 
Investment opportunities available via Acorn Property Invest are exclusively targeted at exempt investors who are experienced, knowledgeable and sophisticated enough to sufficiently understand the risks involved, and who are able to make their own decisions about the suitability of those investment opportunities. All investors should seek independent professional investment and tax advice before deciding to invest. Any historic performance of investment opportunities is NOT a guide or guarantee of future performance and any projections of future performance are not guaranteed. All investment opportunities available via Acorn Property Invest are NOT regulated by the Financial Conduct Authority (FCA) and you will NOT have access to the Financial Services Compensation Scheme (FSCS) and may not have access to the Financial Ombudsman Service (FOS).